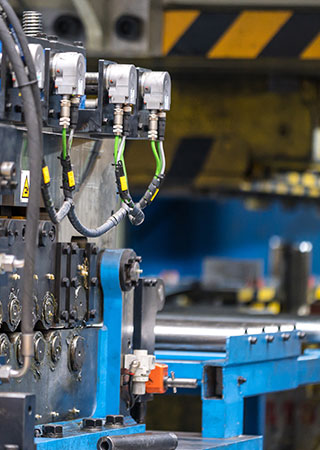 Prototype Stamping
At Rearick Tooling/ JIT, our prototyping process is the driving force behind the innovative attitude that has motivated us in supplying high quality, cost effective prototype parts against expedited delivery schedules. Rearick has worked in numerous industries and strives to be the best resource for any prototyping project. We have established competencies in prototyping of medical parts, electronic parts, printed circuits boards, product design as well as five-axis machined parts. We will work closely with you to develop engineering solutions to overcome your toughest product design challenges.
Our technicians utilize BalTec PWS presses capable of maintaining tolerances as close as +/-.0004 in. in a variety of materials including; Steel, Stainless, Aluminum, Sheet metal, Brass, Copper alloys, Printed circuit board, Micarda, Gasket material and other materials ranging in thickness from .003 to .250 in. Presses are outfitted with CNC controls and directly interface with our design software to minimize the amount of programming needed once the order is ready for the shop floor. In addition, quick change tooling systems utilizing standard tooling designs greatly reduce setup time and limit the need for manufacturing of custom prototype tooling.
Production Stamping
Rearick Tooling/ JIT has been in the business of building stamping dies for over 40 years. We can effectively manage a wide variety of progressive metal stamping projects which involve:
High speed
Continuous strip operations
Large volume
Loose piece
Close tolerance
Reel to reel
With all of these offerings we guarantee that you will receive product that meets your quality, delivery and cost expectations.
We utilize state-of-the-art Bruderer presses ranging from 30 to 60 ton capacity to support our ability to run high speed progressive dies. Stamping materials as thin as .002 to as thick as .100 of an inch can be processed. We have competency with a wide range of material types:
Bronze Brass
Carbon steel
Phos bronze
Stainless steel
Precious metals
Copper
Many of our parts are provided to the customer with plating of nickel, silver or gold for various applications. Products can be returned to Rearick for post processing after plating.
The ability to maintain close tolerances with our processes and equipment provides us opportunities to do work in the Aerospace, Medical, Military and Microelectronic fields. An in-house assembly tool room assures that dies are maintained according to planned preventive maintenance schedules to enable longer production runs, consistent part quality and the highest possible tool life. When component failures, scheduled refurbishments, or part design revisions do arise, our internal tool design and component manufacturing group has the expertise and capacity to address such occurrences and assure you of no delivery disruption. 
Project Gallery
2025 Shady Plain Rd.
Apollo, PA 15613