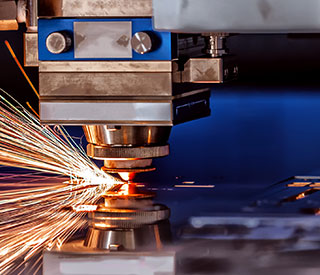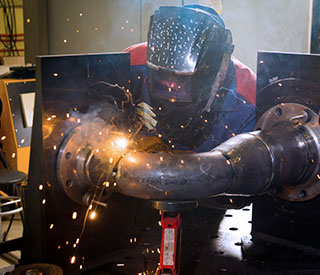 Laser Cutting
Rearick Tooling/ JIT constantly strives to achieve the goal of providing for all of our customers' needs. We do this with the flexibility of a Mitsubishi 3718 LV Plus Laser. The LV Plus series provides 4000 watts of Mitsubishi's cross-flow laser cutting technology. The high-speed, heavy-duty tower, with its eight integrated, low profile shelves each with the ability to hold 6,000 lbs. of material, maximizes the turnaround time for your project. This gives us the ability to stock material for the quick turnaround of your laser-cutting project, sometimes resulting in your parts being available in hours instead of days. Imagine how this would reduce your project time!
The Mitsubishi Laser can produce your laser cut parts from Mild Steel (up to 1 inch thick in sheets up to 6′ x 12′), Stainless Steel (up to 1/2 inch thick in sheets up to 6′ x 12′), and in Aluminum (up to 3/8 inch thick in sheets up to 6′ x 12′ in size). The variety and complexity of laser cut parts are limitless, having many advantages over other conventional metal cutting and metal fabrication processes. We can cut complex parts, thick parts, heavy plate, and hard materials while leaving burr-free edges. Laser cutting produces parts with virtually no distortion, making it your kind of process… well suited for prototyping, short runs, or production.
Waterjet
Rearick Tooling/ JIT uses a Ward Jet ZX-813 waterjet. Where the laser leaves off, the water jet takes over with its ability to cut non-metallic materials, plastics, rubber, glass, marble, ceramics, and fume emitting materials like copper. The cutting bed size is 97″ x 145″ and materials up to 8″ thick can be cut. Its ability to cut three 4'x8′ sheets at the same time allow us to get your parts done fast.
Welding
Rearick Tooling/ JIT has the ability to perform virtually any welding process your project may require. Quantities from one piece to thousands of parts are no problem. We use the latest equipment to stay up-to-date with the most current technologies.
We use Lincoln Electric's Waveform Control Technology™. The use of this process enables the technicians to be more adaptive to your welding needs, with increased weld quality, and productivity. As a result, a wide variety of ferrous or non-ferrous materials can be joined using welding processes such as: Shielded Metal Arc Welding (S.M.A.W.), Gas Metal Arc Welding (G.M.A.W.), Flux Cored Arc Welding (F.C.A.W.), Gas Tungsten Arc Welding (G.T.A.W.), Resistance Welding, as well as Gas Welding/Brazing, and Soldering.
We rely on Meta-Lax to provide us with the capability to create welds with fewer deformations and cracks than our competitors. By adding sub harmonic energy during welding (Meta-Lax Weld Conditioning or Pulse Puddle Arc Welding) it is possible to prevent normal weld distortion and cracking by 50 – 90%. In doing so other benefits like welding faster, reducing pre-heat, and reducing porosity may also be realized. We can then pass these savings on to you.
Project Gallery
2025 Shady Plain Rd.
Apollo, PA 15613
2025 Shady Plain Rd. Apollo, PA 15613 | Phone: 724.478.1135 | Fax: 724.478.1137 | Email: solutions@rearicktooling.com