The overall quality of precision die engineering from Rearick Tooling/ JIT is the direct result of experience, versatility and control. Our capabilities in production stamping, prototype development and precision tooling component manufacturing provides us with the expertise needed to offer a wide range of die design options to overcome the most complex challenges. Our die design team, comprised of tool designers, toolmakers, stamping technicians, engineers, and quality staff work closely together to understand your needs and develop tooling solutions focused on providing consistent quality, the longest possible tool life, and maximum production uptime. We specialize in progressive stamping dies with Tungsten carbide or Ceramic cutting components.
Nowhere is the experience and versatility of Rearick more evident than in our die design and stamping processes. Our expertise includes ultra-precision, high speed progressive dies capable of stamping materials as thin as .003 to materials as thick as 3/16 of an inch and high tonnage dies up to 100 tons. Whether your die design involves simple cutting or complex forming and drawing or if your production demands fast option changeovers and reduced maintenance times, we have a variety of die design styles to accommodate your needs. These include:
Bridge Stripper– Cost effective, non-moving simple stripper design
Modified Bridge Stripper– The premise of a bridge stripper with added accuracy and versatility for option changes and the blanking effect of a full spring loaded stripper.
Full Spring Loaded Stripper or Three-Plate Design– best suited for flat stampings or stampings with simple forming.
Modular or Front-Load Design– Facilitates option changes and areas requiring frequent maintenance by offering the ability to remove specific tooling without removing the entire die from the press.
Experience, Versatility and Internal Control

 – This is the philosophy behind our success in offering customers high quality, cost effective progressive dies in as little as 8 weeks.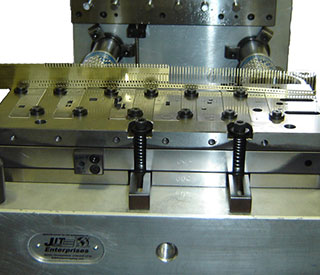 2025 Shady Plain Rd.
Apollo, PA 15613